Harvey Prescott Insurance, Inc.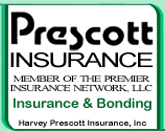 36 East. Main Street
Lansdale PA 19446

Phone: (215) 368-1855
Website: www.prescottins.com
Email: info@prescottins.com

We are proud of our heritage and our goal is to provide superior service but to do so in a family-like atmosphere. Prescott Insurance is ready willing and able to develop a carefully tailored insurance portfolio designed to meet your insurance needs. We have been doing insurance Consulting since 1961 in the North Penn area and surrounding communities. In the competitive insurance market today it is important for customers to look around and really find a company that can provide excellent coverage at the most affordable pricing.
Insurance